Włodzimierz Dąmbski
Background information
Born
ca. 1870

Penalty
Found to be insane
Attack information
Date
February 15, 1904

Location(s)
Warsaw, Russian Empire
Killed
3
Injured
20+
Weapon(s)
Rifle or Shotgun
Włodzimierz Dąmbski was a Polish count who killed at least three people and wounded at least twenty others when firing at people in the street from a hotel balcony in Warsaw, Congress Poland, Russian Empire on February 15, 1904. He was arrested by police after a several hours long siege and found to be insane.[1][2][3][4][5]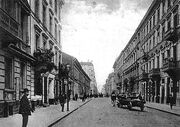 On February 14, 1904 Dąmbski went to the restaurant Stępkowskiego at Theatre Square in Warsaw where he had been a regular guest and ordered all the dishes on the menu. He then produced two pistols and a belt with ammunution and threatened to start shooting indiscriminately, if they failed to comply. He was taken to one of the booths and while waiters began to serve him police was called.
When a number of officers arrived Dąmbski told them that he was the Austrian Emperor and felt insulted. He grabbed his weapons, left the restaurant and escaped the policemen by jumping into a coach and ordering the driver to take him to his home at Złotą Street No. 4. There he produced a revolver from his coat and fired two shots at the caretaker, injuring him, and afterwards rushed to his apartment on the first floor, where he armed himself with a double-barreled shotgun. From the baclony of his apartment he then fired at passers-by and at people inside neighbouring houses [6][7][8][9][10][11][12]
Franciszek Art, 49
Pawek Cisiak, 19
Among those wounded were:
Władysław Fligel, 33
Stanisław Giegurzyński, 19
Władysław Kamiński
Alfred Kobierzycki, 36
Juljan Korbul, 18
Franciszek Kowalewski, 22
Michał Kulikow, 34
Helena Łodzińska, 15
Marjanna Łogiewiczowa, 42
Nolly
Jan Pakuła, 40
Klemens Pawłowski, 10
Stanisław Pawłowski, 24
Pleczko
Feliks Rajpert, 17
Marja Sęk, 24
Anna Trypnerowa, 50
Aftermath
Edit
References
Edit
Ad blocker interference detected!
Wikia is a free-to-use site that makes money from advertising. We have a modified experience for viewers using ad blockers

Wikia is not accessible if you've made further modifications. Remove the custom ad blocker rule(s) and the page will load as expected.