Sunkanmi Ogunbiyi
Background information
Occupation
Policeman
Died
Cause of death
Suicide
Spouse(s)
Oluwatosin Faremi
Attack information
Date
March 27, 2014
7:58 a.m.
Location(s)
Eleweran, Nigeria
Killed
6-9
Injured
1-3
Weapon(s)
AK-47
Sunkanmi Ogunbiyi (also identified as Egunbiyi, aka. Suki) was a Nigerian policeman who killed at least six people and seriously wounded three others at a house in Eleweran, Nigeria on March 27, 2014, before committing suicide.[1][2]
Ogunbiyi worked as a police officer, and around 2003 was attached to the Olabisi Onabanjo University where he gained some notoriety for his ruthless fight against cult groups.[3] At the time of the murders he was attached to the State Criminal Investigation Department of the Ogun State Police Command.[4]
Ogunbiyi was married to Oluwatosin Faremi, who also worked as a police officer, and had two children with her. He physically abused his wife,[5] and frequently accused her of infidelity, whereupon she would often leave with their children and seek refuge at the home of Iya Basira at No. 67, Ifelodun Street. Ogunbiyi was angered by this and warned Basira several times to desist from sheltering his wife and children, but she did not take him seriously and refused to comply with his demands. The last time he threatened Basira was two weeks prior to murders.[3][4]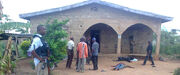 Some time prior to the murders Ogunbiyi once again accused his wife of infidelity, and she left their home together with the children to stay at the house of Iya Basira.[4]
On March 27, after night shift, Ogunbiyi reportedly rioted in his office, took his AK-47 service rifle and drove to Basira's home, where he hid in a bush and waited for his wife to emerge. At about 7:58 a.m. Faremi came out of the house to leave for work, wherupon he shot her dead. He also killed a okada driver named Kunle, who should pick her up, but spared his children, who were about to go to school. Ogunbiyi then entered the building, where he fatally shot Iya Basira in her sleep, before turning against the other members of her family.
Even though police only confirmed six people killed, including Faremi, Iya Basira, a 2-year-old girl, as well as two males and a female, newspapers reported there were seven fatalities, consisting of Faremi, Iya Basira, a 2-year-old girl named Jesutofunmi, who was variously decribed as her daughter, and granddaughter, Iya Basira's daughter, also named Basira, as well as her two sons named Taofeek and Sikiru. Though according to early reports Sikiru was critically injured.[6]
After the murders Ogunbiyi handed his children to a okada driver, gave them the money in his pockets,[7] and kissed them farewell. He then committed suicide.[8][9][10][11] Besides the six or seven people killed three others were wounded and brought to the Federal Medical Center in Abeokuta,[12] where two of them reportedly died of their wounds.[3]
Oluwatosin Faremi, his wife
Kunle
Iya Basira
Basira, daughter of Iya Basira
Jesutofunmi, 2, Iya Basira's daughter/granddaugther
Sikiru, son of Iya Basira
Taofeek, son of Iya Basira
Those wounded were:
Funmi Ali, 33, shot in the stomach
Toheeb Sanusi, 10, grandson of Iya Basira, shot in the back and left side
Sikirulai Wahab, 27, shot in the left arm and back
References
Edit
External links
Edit
Ad blocker interference detected!
Wikia is a free-to-use site that makes money from advertising. We have a modified experience for viewers using ad blockers

Wikia is not accessible if you've made further modifications. Remove the custom ad blocker rule(s) and the page will load as expected.