Roger Barboux
Background information
Occupation
Blacksmith
Born
ca. 1921

Died

October 1954 (aged 33)
Dun-le-Poëlier, France

Cause of death
Suicide
Attack information
Date
October 19, 1954

Location(s)
Dun-le-Poëlier, France
Target(s)
Family
Killed
6
Roger Barboux was a French blacksmith who killed six people in Dun-le-Poëlier, France on October 19, 1954, before committing suicide.[1][2][3]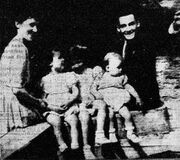 Lucienne Barboux, 31, his wife
Janine Barboux, 11, his daughter
Jean-Marie Barboux, 9, his son
François Barboux, 7, his son
René Barboux, 67, his father
Louise Barboux, 64, his mother
[4][5][6][7][8][9][10][11][12]
References
Edit
Ad blocker interference detected!
Wikia is a free-to-use site that makes money from advertising. We have a modified experience for viewers using ad blockers

Wikia is not accessible if you've made further modifications. Remove the custom ad blocker rule(s) and the page will load as expected.