Robert Kausler
Background information
Occupation
Student
Born
ca. 1945

Died

December 20, 1972(1972-12-20) (aged 27)
Erlangen, West Germany

Cause of death
Perished in the fire
Attack information
Date
December 20, 1972
9:15 p.m.
Location(s)
Erlangen, West Germany
Killed
2
Injured
13
Weapon(s)
Handgun
Arson
Robert Kausler was a German zoology student who killed two people and wounded thirteen others at the library of the the Zoological Institute in Erlangen, West Germany on December 20, 1972, before dying in the fire he himself had set.[1][2][3][4][5][6]
Kausler studied zoology at the university in Erlangen. He was described by other students and acquaintances as a loner and a psychopath, and had uttered threats against the scientists of the zoological institute.
He got engaged with Elfriede Gößwein, a doctoral candidate at the university, but about half a year prior to the murders she left him, whereupon Kausler pleaded her to come back to him. Realising that his pleas fell on deaf ears he threatend Gößwein with murder and once forced his entrance into her apartment.
In September 1972 he was a patient at the psychiatric hospital of the University Clinic Erlangen, but was released after a short time, since the doctors came to the conclusion that it was not necessary to confine him.[7]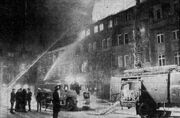 On December 20, 1972, at around 9:15 p.m., Kausler went to the third floor of the library at the Zoological Institute located at Bismarckstraße 10, where a christmas celebration was in progress. There he poured petrol on the floor of the stairwell, set it on fire, and then entered.
Shouting "No one is going to get out of here alive!" Kausler opened fire with a handgun. His first shot was directed at Frans Krul, a Dutch student and the new boyfriend of Elfriede Gößwein, but only hit Krul's glasses, causing minor injuries. He next seriously injured another student with shots in his back and chest and then killed Karin Pikos, who worked as a technical assistant at the university. The 27-year-old finally turned against his former fiancée, and ignoring her pleas for mercy shot her dead.
By that time panic broke out among the other guests who tried to escape the spreading fire by jumping out of the windows. In total thirteen people were wounded in the incident, several of them during their attempts to escape. Six of the wounded were in serious condition, while seven others received minor injuries, were treated and released immediately afterwards. Kausler himself died in the fire, and it took police several hours to identify his and his victims' carbonised remains.[7][8]
Elfriede Gößwein, 24, Kausler's former girlfriend
Karin Pikos, 22
Among those wounded was Frans Krul, 23.
References
Edit
Ad blocker interference detected!
Wikia is a free-to-use site that makes money from advertising. We have a modified experience for viewers using ad blockers

Wikia is not accessible if you've made further modifications. Remove the custom ad blocker rule(s) and the page will load as expected.