Moritz Kaiser was an American farmer who killed his wife and six children at their farm in Monroe County, Illinois, United States, during the night from February 28 to March 1, 1878. He then set fire to his home and perished in the flames.[1][2][3][4][5][6][7]
Kaiser originated from Switzerland, but at the time of the murders had been a US resident for 25 years. He married his wife Ellen, an orphan, when she was 14 years old, and leased a farm located not far from Fish Landing and Joy Landing, two villages lying by the Mississippi river, about 15 miles southeast of Waterloo, Illinois.[8][9][10]
Kaiser was described as an industrious and temperate person, but despite his best efforts had no luck with his farming operations. Since he was unable to pay his rent he was eventually ordered to leave the farm by March 1, 1878. For weeks Kaiser inquired among his neighbours for a new farm and spent days riding around the country searching for a new place to settle with his family, but beside a small and neglected farm with a log house he found nothing within his financial means.[8][9][10]
Out of necessity he accepted the small farm, but in the days leading up to the murders became increasingly desperate when thinking about his situation, and walked around muttering to himself. Despondent over the poverty of his family he threatened suicide more than once, but was deterred by his wife's description of the situation he would leave herself and their children, if he were gone. He was heard saying that he would not leave his family behind if he'd die,[10] and on February 25 lamented to a neighbour: "Oh Christ, how can I move into that log house. My poor wife and children to be so reduced."[8][9]
During the night of February 28 Kaiser visited the saloon in Fish Landing to drink whisky. There he talked to himself, cried continuously, and was heard saying "My God, my poor wife and my little children, I can't move them into an old log house, I'd rather be dead. I wish we were all dead", but when the other guests tried to reason with him he remained unresponsive. At about 9:30 p.m.[11] he asked the bartender to fill his bottle with whisky, and then left.[8][9][12]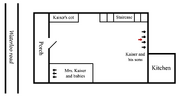 The exact sequence of events after his departure is unknown, though it was assumed that Kaiser went home, and after the family had lain down to sleep, got up, took a weapon and killed his wife and two youngest children with blows to their heads. He then called down his older boys from their bedroom on the first floor, and one by one smashed their skulls, probably with either a mattock, or a grub hoe. Afterwards he took the boys' bodies and laid them in a row, and also arranged the bodies of his wife and two other children in their bed. Eventually the 50-year-old man set the house on fire, supposedly cut his own throat, and waited for his death.[8][9][11]
The blazing farm house was first recognized by neighbours at about 4 a.m., and before they managed to extinguish the flames it was almost entirely destroyed. When they searched the ruins they found Mrs. Kaiser lying in her bed, with her son Tommy beside her, and her baby-daughter Ellen on her breast. The lower parts of bed and bodies were heavily burnt, but the upper parts were unscathed by the flames, and upon examination two deep cuts were found on Mrs. Kaiser's head that penetrated the brain, while the heads of the two children were crushed, and the bed was drenched in blood. The carbonised remains of Kaiser and his sons were later discovered in another part of the building that was more severely damaged, but it was visible that the boys' skulls had been smashed in.[8][9][11]
Even though there was enough evidence to the contrary, with all the dead being found in a single room on the ground floor, and Kaiser's body being the only one that was twisted, as if he had been still alive at the time of the fire, while the others lay composed on their back with their limbs stretched out, the coroner who examined the corpses reportedly came to the conclusion that the deaths were accidental.[13][14]
Ellen Kaiser, 25, his wife
John Kaiser, 10
Samuel Kaiser, 9
Henry Kaiser, 7
Fred Kaiser, 5
Tommy Kaiser, 3
Ellen J. Kaiser, 2 months
References
Edit
Further reading
Edit
Ad blocker interference detected!
Wikia is a free-to-use site that makes money from advertising. We have a modified experience for viewers using ad blockers

Wikia is not accessible if you've made further modifications. Remove the custom ad blocker rule(s) and the page will load as expected.