Monroe Phillips
Background information
Occupation
Real estate and timber dealer
Born

Bibb County, Georgia, United States
May 18, 1856
Died

March 6, 1915(1915-03-06) (aged 58)
Brunswick, Georgia, United States

Cause of death
Shot dead
Parents
Henry Haywood Phillips
Martha Catherine Phillips
Spouse(s)
Ophelia Rebecca Durden
Attack information
Date
March 6, 1915
10:30 a.m. – 10:40 a.m.
Location(s)
Brunswick, Georgia, United States
Killed
7
Injured
30+
Weapon(s)
10-gauge Parker double-barreled shotgun
Monroe Phillips was an American real estate and timber dealer who killed seven people and wounded at least thirty others in Brunswick, Georgia, United States on March 6, 1915, before being shot dead.
Phillips was born in Bibb County, Georgia on May 18, 1856 as the son of Henry Haywood and Martha Catherine Phillips (née Durden). He had seven siblings. In his home town he owned several properties and became involved in timber and real estate business. Sometime before 1884 he married Ophelia Rebecca Durden, with whom he had three children, Ida Belle, born 1884, William Rabun "Rabe", born 1890, and Millard Jenkins Taylor Phillips, born about 1901.[1][2]
Phillips was described as an overbearing and morose man with an explosive temper and peculiar habits, and also as someone who was constantly suspecting that others wanted to cause him harm or ruin his life – a psychiatrist from Milledgeville diagnosed him as a "paranoiac of the most vicious kind." Consequently he did not make friends easily, however, he reportedly was not without friends entirely and many of them were said to be fond of him.[1][2]
Six or seven years prior to the shooting Phillips moved from near Macon to Brunswick, reportedly bringing with him a considerable amount of money, started conducting real estate deals and other financial transactions there, and made himself a name as a good trader. After his settlement in Brunswick he was involved in a number of litigations. In one instance he argued that Albert Fendig, a local real estate man and banker, owed him $25,000 as commission on a big real estate transaction, and in another he made monetary claims against a man named R. E. Briesenick, which fueled his resentment against them, as well as the lawyers, who represented their clients against him.[2]
However, he seems to have been suffering with business reverses for two or three years and was a victim of his own imagination that many people were conspiring to bring about his financial ruin. has been suffering from imaginary wrong perpetrated upon him by leading Brunswick business men. Phillips is said to have believed that he had been prevented from obtaining commissions on a large real estate deal by several prominent men. He is said to have threatened their lives and to have made a list of six men he intended to kill. Little attention was paid to his threats.[2]
Several days prior to the shooting Phillips and his wife went to Savannah where they sold a lighter, belonging to his wife, to a man named Quinlan, who paid $75 to bind the deal, while the rest of the sum was to be collected when she made title and delivered the property. However, when Quinlan arrived on March 6 he found it had been attached by a number of creditors. In the meantime she said that Mr. Dunwody had advised that certain claims had been filed against the property and that title could not be made until they were satisfied. the Savannah people wanted a clean title to the property; there were liens against it, represented by Brunswick attorneys, Mr. Dunwody among them, who was attorney for most of the creditors, and a conference was fixed for 10:30 a. m. on March 6 in Mr. Dunwody's office.[2]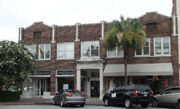 It seems, however, that before filing this engagement Mr. Phillips visited his own lawyer, Judge D.W. Krauss, and was told that Mr. Dunwody, representing local creditors, whom Phillips hated, were insisting that liens against the property be wiped out. It is known that Phillips invited at least one of those claimants to go with him to the Dunwody office; this was refused and still suffering from bad temper, Phillips bolted into Dunwody's office to adjust the matter in his own way. While some people think that Phillips had a regular list of six or eight people marked for death, others believe that after murdering Col. Dunwody and perhaps mortally wounding Mr. Way, and after having strode through the Fendig offices, seeking Mr. Fendig, he concluded to shoot until he was shot to death. Shortly before Phillips came to his office Mrs. Phillips called the lawyer over the telephone and urged him to dismiss the attachments. J.S. Brailey was in the office at the time and said he heard Mr. Dunwody say to Mrs. Phillips, "You just want to keep that $75."[2]
She said she called Mr. Dunwody over the telephone yesterday morning and told him she was unable to get the proceeds from the lighter sale, and that she had an engagement to meet Judge D.W. Krauss, her husband and Mr. Dunwody in Judge Krauss' office later in the morning, and asked if Mr. Dunwody would be there; that Mr. Dunwody was caustic in his reply, practically insulting her, by saying that she was aiding her husband in an effort to cheat the Savannah people out of $75. Mrs. Phillips then said that she went straight to Judge Krauss' office, met her husband there and told him what Mr. Dunwody had said to her. That Mr. Phillips then left the office of Judge Krauss and remarked that he would go and "see Mr. Dunwody. This is said to be the last time Mrs. Phillips saw her husband. She state further to this friend that when Mr. Phillips left home yesterday morning he carried no weapon, was not in an ill humor and that in telling him what had occurred between she and Mr. Dunwody, she had no idea that it would bring about any trouble.[2]
Mrs. Phillips later told her husband that Mr. Dunwoody had insulted her by saying you and your husband are trying to beat these people out of this. Phillips [illegible] securing his shotgun and at least 50[?] cartridges he started out to slay all whom he claimed had wronged him in the past. Among these were Albert Fendig, prominent real estate dealer and banker; A.M. Way who was badly injured, R.F. Briesenick and others.[3]
On March 6, 1915 Phillips armed himself with a 10-bore Parker double-barreled shotgun, buckshot shells, picked up a half dozen shells loaded with small shot, he saved the lives of two or three other citizens and shortly after 10:30 a.m. went to the law office of colonel Harry Franklin Dunwody at Newcastle and Gloucester streets. He was met by Mr. Dunwody's stenographer, who, when he asked if Mr. Dunwody was in, told him he was busy and would see him later. Phillips brushed her aside and entered the office. killed him with a shot to the head at his desk. Mr. Dunwody was seated in a chair at his desk talking to Mr. A.M. Way. Without warning he raised the shotgun, loaded with buckshot, and fired point blank at the lawyer, who was almost instantly killed. He then fired at Mr. Way, who fell to the floor mortally wounded with one eye almost shot out. Fired a second shot at client Albert M. Way hitting him in the face, he lost his right eye. Sparing Dunwody's secretary Ila Lee Phillips exited building, after warning passersby to scatter fatally shot former police officer L. C. Padgett in the chest. The same shot injured Eustace C. Butts, who was standing behind Padgett, in the leg. There were many persons on the street and in Branch's drug store directly beneath the office. Hearing the shooting they rushed to the street. Padgett and Mr. Butts went to the foot of the stairs leading from the second story to the street. Just then Phillips appeared at the head of the stairs. He had reloaded the gun and fired at the group at the foot of the steps. Padgett fell fatally wounded and Butts was shot through the right leg.[1][2]
By this time numerous people were on the streets and coming out of businesses wondering what was happening. Phillips fired a shot at Kaiser's, a woman's boutique, hitting nobody, but causing some women to faint on the spot. Phillips calmly walked down the stairs, placing a shell in the empty barrel. He walked into the office of Albert Fendig & Co. and said to have been on the list he intended to kill. Mr. Fendig was not in the office, but he was met in the office by W.K. Boston. "I am not going to kill you; you have been my friend," he said to him. Phillips went to the business of Albert Fendig with intention to kill him, Fendig was away at the time. Phillips was met by William King Boston, whose life was spared because, according to Phillips, Boston was always a good friend.[1][2]
Outside of Fendig's office Phillips decided to head towards Branch's Drugstore where the dying Padgett was taken. After he left Fendig's office Phillips started toward Branch's drug store, next door. Asbell walked out of the store. Without [page 7] a word of warning Phillips fired, killing him instantly. On his way over, he gunned down streetcar conductor George W. Asbell as he was running to help Padgett, leaving his vehicle in the road, killed with shot in the back of his head. From there Phillips became indiscriminate in his targets, shooting randomly, his first victim being undertaker William Hackett who was riddled with buckshot. Then twenty-year old Gunnar Tolnas was shot down from his bicycle, shot through back and lungs, dying several days later from the wound in his back. Standing on the corner, Phillips aimed towards the Brunswick Bank and Trust Company hitting several people, one woman, Annie J. Slater, was saved by her corset staye that deflected a stray buck shot. Herbert Miller was shot in the chest, but was unharmed; however, he was left with a memento, a nickel with a piece of number 12 buckshot imbedded in it. Ernest McDonald stepped out of the barber shop, lather still covering his face, he was shot down in the street, hit in stomach and leg. He struggled for life that night and was expected to survive, but his body was still weakened from the bout of pneumonia, he did not live, died the following morning.[1][2]
Soon, the police were on the scene, having a shoot out with Phillips in the middle of Newcastle Street. Rookie officer Rex Deaver wounded Phillips before being shot himself. He died on the way to the hospital. Butts and a young man named Ralph Joseph Minehan ran to the United Supply Company and purchased a shot gun and a 32-caliber pistol with ammunition. Butt requested the clerk to give him number three shot so he would not kill him. The clerk, however, gave him buckshot. Together they slipped in the back door of Branch's pharmacy, and while Phillips was shooting at Deaver, they took aim, Minehan firing off about five shots and Butts firing the shot gun, hitting Phillips in the kidneys, Monroe died within eight or ten minutes, begged that those who had shot him finish their work. The massacre was over; it had lasted only ten minutes. When he entered the drug store through a side door Phillips was firing through the front door. Butts endeavored to get in position to try to shoot the shotgun out of his hands, but failed. Phillips was reloading for another shot when Butts fired, Phillips sank to the floor shot through the kidneys. He lived a few minutes. "Well, you've just about got me; finish it up," he said.[1][2]
R.J. Minehan also figured in the shooting of Phillips, and that one of the shots fired from his revolver struck him was shown when a 32-caliber pistol ball was removed from his body. Mr. Minehan secured the 32-caliber pistol from the United Supply Company at the same time Mr. Butts secured the shotgun and they returned to the drug store together. Mr. Minehan walked in the drug store ahead of Mr. Butts and fired five times at Mr. Phillips while he was engaged in the duel with Officer Deaver. It was a few seconds after Mr. Minehan had emptied the chamber of the revolver when Mr. Butts fired. Fully sixteen shots had been fired by Phillips.
I came on down to the foot of the stairs, and, looking down the street, saw him leveling his big, ugly-looking gun. I stepped back and as I did I heard a report of the gun. I heard Phillips saying, "I'll get you, you ——.' I stood in the doorway and saw Officer Barnes, at Wood-Bailey's corner, firing at Phillips. After he had fired, I should say about two shots, Phillips swung toward him, "I see you, — you,' and, leveling the gun at him, fired. Barnes darted around the corner. Then Phillips shot three or four times in every direction."
           Dr. Blanton says he stood in the doorway and he thought that possibly after Phillips had fired both barrels he and others could run up an overpower him before he could re-load his gun.  "But every time he would only shoot once," continued the physician.  "He would shoot once, break his gun and place one shell, therefore it would have been impossible for him to have been overpowered.  After shooting until he had practically cleared the streets I saw him go into Branch's drug store.  Then I stepped out on the sidewalk.  It was then young Deaver arrived on the scene, and it is my belief that the officer was shot while crossing Gloucester street.  I saw him endeavoring to shoot through Branch's window, and he looked to me as though he was then wounded.  He fired two or three times, then I heard a loud report from Phillips' gun and the brave young officer tumbled over on the sidewalk.  It was just a second later when I heard three or four pistol shots and then one report of a shot-gun and the firing ceased."

Harry Franklin Dunwody, 51
L. C. Padgett
Rex N. Deaver, 23, police officer
George W. Asbell
William A. Hackett,
Gunnar Tolnas, 22
Ernest McDonald, 31
Among those wounded were:
W. H. Berrie
A. H. Boyle, shot in the chest
B. T. Brown
T. B. Burns
Eustace C. Butts, shot in the leg
Isaac Cohen
P. H. Crumpler
S. A. Ellard, shot in the face
Tom Ford
R. L. Fox, shot in the neck
H. M. Frank
W. O. Holt

R. G. Jackson
H. Jennings
L. J. Leavy, shot in right shoulder and chest
Sigmund Levison, shot in the face and neck
Alexander Lorentzson
R. Skipper
George M. Smith
Herbert Smith
Claude Walker
Albert M. Way, shot in the face
W. J. Way
Jerre Wilcher, shot in the neck
Aftermath
Edit
His remains will be shipped to the old family home at Reids, near Macon, this morning for interment.[2]

The body of Monroe Phillips author of the city's terrible tragedy will be buried here tomorrow afternoon. It was intended to forward the body to Reids near Macon but the arrangements were changed today.[3]
Was buried on March 9.[4]
Ten days after Phillips' rage a Macon youth, badly affected by the Brunswick tragedy, opened fire inside a store trying to kill his sweetheart and later killing himself. Twenty one year old George Cheatham was suspicious of his brother Rufus' attentions towards 16 year old Lucile Pinholser, and decided that, like Monroe Phillips, he would just go out and kill everyone involved in his twisted love triangle, and anyone who was in the way.[1]
He entered the store of D.F. Pinholser around 1 o'clock in the afternoon and opened fire on Lucile and her two younger brothers, Sherwood aged 4 years and Raymond aged 2 years. His own brother running out the store and escaping injury. George left the store and about a hundred yards away in a gulley, he turned the gun on himself and fired, death was instantaneous his body was discovered an hour later. The young Pinholser children all escaped mortal wounds, as George loaded his shot gun with bird shot.[1]
George Cheatham's father stated that his son had been worried over the Monroe Phillips shooting and would constantly talk about it so much so, that his father thought his son was mentally unbalanced. R.S. Cheatham, the father, stated that his son always complained about his head, possibly early signs of schizophrenia. George had lost his job days earlier, then the tragedy in Brunswick, and his suspicions of his brother combined to a boiling point.[1]
References
Edit
External links
Edit
[1], [[]] ()
[2], [[]] ()
[3], [[]] ()
[4], [[]] ()
[5], [[]] ()
[6], [[]] ()
[7], [[]] ()
[8], [[]] ()
[9], [[]] ()
[10], [[]] ()
[11], [[]] ()
[12], [[]] ()
[13], [[]] ()
[14], [[]] ()
[15], [[]] ()
[16], [[]] ()
[17], [[]] ()
[18], [[]] ()
[19], [[]] ()
Bear killed yesterday near Reid's Station, Macon Daily Telegraph (October 18, 1908)
[20], [[]] ()
[21], [[]] ()
[22], [[]] ()
[23], [[]] ()
[24], [[]] ()
[], [[]] ()
Ad blocker interference detected!
Wikia is a free-to-use site that makes money from advertising. We have a modified experience for viewers using ad blockers

Wikia is not accessible if you've made further modifications. Remove the custom ad blocker rule(s) and the page will load as expected.