Michel Van Wijnendaele
Birth name
Michel Van Wijnendaele
Occupation
Unemployed
Born
ca. 1959

Died

May 12, 1987(1987-05-12) (aged 28)
Sirault, Belgium

Cause of death
Suicide
Attack information
Date
May 12, 1987
2 p.m. – 7 p.m.
Location(s)
Bogaarden & Denderwindeke, Belgium
Killed
7
Injured
3
Weapon(s)
.22-caliber rifle
Michel Van Wijnendaele was a Belgian mass murderer who killed seven people in Bogaarden, Belgium on May 12, 1987. He also wounded three others, before committing suicide.[1][2]
Van Wijnendaele was married and had a son named Bart. He had worked at a bank in Brussels until April 1, 1987, and wanted to become a professional cyclist.[3]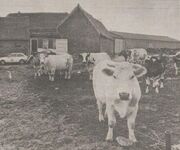 At approximately 2:00 p.m. on May 12, 1987, Van Wijnendaele, armed with a .22-caliber rifle, entered a farm in Bogaarden, where he shot dead Jean Baptiste and Margriet Nechelput, their daughter, Liliane Decrem, her husband, Edgard, as well as their son Christian, and the family's dog, and also wounded Guy, another son of the Decrem's with a shot in the stomach after a short scuffle. At a neighbouring farm he killed Marie-Thérèse Derycke-Walraevens and her son Ludovic. It is unknown if they were killed prior to the murder of the Decrems, or afterwards for witnessing the shooting. Van Wijnendaele then fled the scene in his Opel Kadett, and while police set up roadblocks to capture the gunman, he made his way to Denderwindeke, where he shot and wounded his father-in-law Elie Schepens, and his grandmother-in-law three or four hours later.
Van Wijnendaele was eventually spotted by police in Brugelette, as he was filling his car at a gas station. A car chase ensued that ended at about 7:00 p.m. when the 28-year-old was cornered by police in Sirault, near Mons, whereupon he committed suicide by shooting himself in the head.[4][5][6][7][8][9]
Jean Baptiste Nechelput, 90
Margriet Nechelput, 84, wife of Jean Baptiste Nechelput
Liliane Decrem, 46, daughter of Jean Baptiste and Margriet Nechelput
Edgard Decrem, 54, husband of Liliane Decrem
Christian Decrem, 20, son of Liliane and Edgar Decrem
Marie-Thérèse Derycke-Walraevens, 37
Ludovic Derycke, 3, son of Marie-Thérèse Derycke-Walraevens
Among those wounded were Elie Schepens and Guy Decrem, 24.
References
Edit
Ad blocker interference detected!
Wikia is a free-to-use site that makes money from advertising. We have a modified experience for viewers using ad blockers

Wikia is not accessible if you've made further modifications. Remove the custom ad blocker rule(s) and the page will load as expected.