Mary Sartin

Mary Sartin with her husband Harold.
Background information
Birth name
Mary McNew
Born
1938
Maxie, Virginia, United States
Died

August 13, 1965(1965-08-13) (aged 26)
Bay View, Ohio, United States

Cause of death
Suicide
Parents
Mabel A. McNew
Spouse(s)
Harold Edward Sartin
Attack information
Date
August 13, 1965
2/3 a.m.
Location(s)
Bay View, Ohio, United States
Target(s)
Family
Killed
6
Weapon(s)
.32-caliber pistol
Mary Sartin was an American who killed her husband and five children in Bay View, Ohio, United States on August 13, 1965, before committing suicide.[1][2][3]
Mary Sartin was a native of Maxie, Virginia. She was the daughter of Mabel A. McNew and had a sister named Janice and a brother named Ellis.[4][5] At the time of the murders she had been married for eight years to Harold Edward Sartin, with whom she had five children.
In 1963 the couple moved from Port Clinton into a one-story house at 129 Cherokee Trail in Bay View, and according to neighbours their marital problems began around that time. During their arguments they would often threaten each other and eventually Harold Sartin slept on a bed in the garage. He also started a relationship with another woman and some time prior to the murders told his wife that he would leave her after handing her his last paycheck, which he was about to receive on August 13, and then travel with his new love to Australia. According to a neighbour who met her the day before the murders Mrs. Sartin was awfully upset about this.[6]
On August 12 Mary Sartin went to Port Clinton, where she bought a five-shot .32-caliber pistol and later told her neighbour Virginia Barnes about the purchase, who didn't think much of it, because the family already had a gun in the house. The following night, at around 1 a.m., Sartin called Mrs. Barnes, telling her that she would kill her family and herself, but Barnes didn't believe her, because she sounded normal and had been saying this for years.
Sartin also revealed during the phone call that she would send a letter to the woman her husband had an affair with to explain to her why she had murdered her family. The letter, which was picked up by a postman two hours before the discovery of the bodies, was later handed over to police. In it Sartin revealed that her husband wanted to leave her to marry a Sandusky woman with three children, and that she would rather keep the family united in death than to see it split up by divorce, writing: "This is the way it has to be," that she felt killing the family was "the only way out," and that she hoped "everybody would understand." She also addressed her rival, writing she hoped "the woman was satisfied now, and would leave other married men alone." Furthermore Sartin stated that she had given her husband a good home and had taken good care of the children, but also complained that her children "had to wear other people's clothes and there was not always enough food for them." She also mentioned that she wanted the story of the murder-suicide on the front page of the newspaper.[7]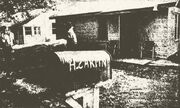 Some time between 2 a.m. and 3 a.m. Sartin took her pistol and went to the garage, where she shot her sleeping husband three times in the head. Afterwards she returned into the house, took her son Bryan from the crib in her bedroom and went to the children's bedroom, where she put him in a bed with her son David. According to the reconstruction of the events by the coroner Sartin then shot her three eldest children, who were sleeping in a double bed, before turning against the two youngest, killing each of them with a single shot to the head. Subsequently she committed suicide beside her children by shooting herself in the temple. The bodies were found at approximately 3 p.m. by her husband's sister when she came for a visit after no one in the house had answered her phone calls.[4][8][9][6] The family was buried in Canada, Kentucky.[7]
Harold Edward Sartin, 37, her husband
Rita Sartin, 6, her daughter
Harold Edward Sartin, Jr., 5, her son
Kenneth Sartin, 3, her son
David Sartin, 2, her son
Bryan Sartin, 7 months, her son
Further reading
Edit
References
Edit