Mark Jonnie Pelen
Background information
Occupation
Construction worker
Attack information
Date
July 14, 2013

Location(s)
Cantutang, Philippines
Killed
3
Injured
9
Weapon(s)
Sundang
Mark Jonnie Pelen (also identified as Mark Junie Telen/Pelin, alias Tambalan) was a Filipino construction worker who killed three people and wounded nine others in Cantutang, Philippines on July 14, 2013.[1][2][3][4][5][6]
Maria Feliselda, 56
Princess Jabonero, 23
Leslie Ann Kaindoy, 1
References
Edit
External links
Edit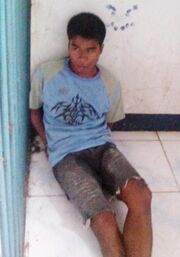 Ad blocker interference detected!
Wikia is a free-to-use site that makes money from advertising. We have a modified experience for viewers using ad blockers

Wikia is not accessible if you've made further modifications. Remove the custom ad blocker rule(s) and the page will load as expected.