Lee Chi Hang

Lee after his arrest
Background information
Ethnicity
Chinese
Born
ca. 1954

Penalty
Found to be insane, confined in mental institution
Imprisoned at
Siu Lam Psychiatric Centre
Parents
Lee Wing Chiu
Leung Lai Kuen
Attack information
Date
June 3, 1982
1:30 p.m.
Location(s)
Sham Shui Po, Hong Kong
Target(s)
Family
Anne Anne Kindergarten
Killed
6
Injured
37
Weapon(s)
Two knives
Two chisels
Lee Chi Hang (Chinese: 李志衡) is a Chinese man who killed six people and wounded 37 others in Sham Shui Po, a district of Hong Kong, on June 3, 1982. After killing his mother and sister, and wounding two other women, the 28-year-old entered the Anne Anne Kindergarten and stabbed 34 children, four of them fatally, and also injured several other people, before he could be arrested by police. Lee was found to be insane and is held in a mental institution ever since.[1]
Lee, who was diagnosed as suffering from schizophrenia, was the son of Lee Wing Chiu and Leung Lai Kuen. According to his father he was a silent boy who did poorly in school, showed strange behaviour and spoke incoherently. In 1976 he was admitted to Castle Peak Hospital, a mental institution, for six month, after fighting with a neighbour.[2] Lee frequently suffered from depression and threatend to kill his parents during an argument on New Year's Eve of 1979. In the time prior to the stabbing he was unemployed and was said to have appeared emotionally unstable.[3]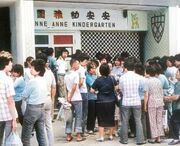 At around 1:30 p.m. Lee stabbed his mother and sister in their apartment on the 12th floor of a building of the Un Chau Street Estate. They later died in hospital. Armed with two knives with 8-inch blades and two chisels Lee then ran downstairs, stabbing two other women on his way, and entered the Anne Anne Kindergarten (安安幼稚園), where 60 children between 3 and 4 years of age were having a singing lesson. He immediately began slashing and stabbing the children, leaving 34 of them wounded, six of them with their arms nearly severed,[2] and four with fatal injuries. When two police officers arrived at the scene, Lee fled to the playground, where he stabbed constable Chan Kin Ming in the chest. Ignoring the injured policeman's orders to drop his weapons Lee continued stabbing at passers-by, and wounded two men, a woman and a 14-year-old boy, before Chan stopped him with a shot to the left arm and stomach.[3][4][5][6]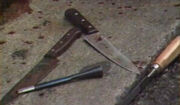 Leung Lai Kuen (梁麗娟), 48, Lee's mother
Lee Shiu Kam (李少芹), 17, Lee's sister
Fu Kin-kwok, 3
Tai Kia-lam, 3
Two other children
Aftermath
Edit
After the stabbing security measures at nursery schools were upgraded, and it was made compulsory for discharged patients of mental institutions to regularly attend psychiatric out-patient clinics.
Lee was charged with six counts of murder,[3] and in April 1983 he was sentenced to be detained in a mental hospital for an unspecified period.[7] As of January 1998 he was still being held at the Siu Lam Psychiatric Centre in Tuen Mun.[2]
In popular culture
Edit
The 1986 film The Lunatics by Derek Yee is based on the incident.
References
Edit
External links
Edit