King Kyung-yul
Background information
Occupation
Soldier
Born
ca. 1943

Died

January 18, 1971(1971-01-18) (aged 27)
Kimpo, South Korea

Cause of death
Suicide
Attack information
Date
January 18, 1971

Location(s)
Kimpo, South Korea
Killed
6
Injured
4
Weapon(s)
M16
Hand grenades
King Kyung-yul (Korean: 공경렬) was a South Korean marine sergeant who killed six people and wounded four others in Kimpo, South Korea on January 18, 1971.[1][2]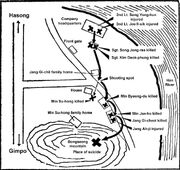 After a drinking bout that night King detonated two hand grenades inside the marine camp, and then ran into a nearby village, where he shot dead two soldiers and four villagers with his M16 assault rifle, and also injured four other villagers. Afterwards the 27-year-old fled into the mountains, where he committed suicide.[3][4][5][6][7]
Sergeant Song Jong-rae (동종래)
Sergeant Kim Deok-phung (김덕풍)
Jang Gi-cheol (장기철)
Min Byeong-du (민병두)
Min Jae-ho (민재호)
Min Su-hong (민수홍)
Among those wounded were:
Second lieutenant Song Yong-hun (송용훈)
Second lieutenant Jeo Il-sik (저올식)
Jang Ah-ji (장아지)
References
Edit
External links
Edit
Ad blocker interference detected!
Wikia is a free-to-use site that makes money from advertising. We have a modified experience for viewers using ad blockers

Wikia is not accessible if you've made further modifications. Remove the custom ad blocker rule(s) and the page will load as expected.