Jean Pica
Occupation
Miner (retired)
Born
1917

Died

November 9, 1972(1972-11-09) (aged 55)
Beaurecueil, France

Cause of death
Suicide
Attack information
Date
November 9–16, 1972

Location(s)
Beaurecueil, France
Killed
6
Injured
5+
Weapon(s)
Revolver
Bombs
Jean Pica was a French pensioner who was responsible for the death of six people and the wounding of five others in Beaurecueil, France in November 1972.[1]
Pica was born in 1917 and worked as a coal miner. His colleagues found him to be a somewhat irascible person. Soon retired. In WWII served as a specialist for mine detection. 1952 he moved together with his mother to Beaurecueil.
Pica, 55, lived in a first-floor apartment in Beaurecueil, didn't pay his rent, did not keep his home clean, owner Adrienne Narbone, lived on ground floor the same building, wanted him removed, On November 1[2] received court order he would be evicted/was told he would have to leave by the end of the month,[3]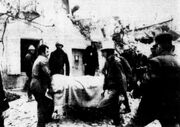 Sent his mother to relatives, booby trapped his home with explosives attached to three butangas cylinders, Thinking that mayor Julien Gautier, who had signed his eviction was responsible for his dislodging he took a WWII revolver on morning of Nov. 9, found Gauthier working in his garden, shot him twice in the abomen, seriously injured, then committed suicide in a nearby ditch by detonating dynamite on his body. Next morning, Adrienne Narbone, a friend of hers, two policemen and locksmith tried to enter Pica's apartment, opened door, explosion, all five were killed, tenant seriously wounded, house destroyed[3][4][5][6][7]
A second explosion occurred when a bulldozer hit the garage door, wounding a 69-year-old onlooker.[8]
On November 16 booby trapped motor cycle exploded while rubble was searched, killed an explosives expert, wounded three firemen, one seriously.[9][10][11]
On November 21, 15:30 a fourth explosion occurred when dynamite fixed to Pica's motorcycle detonated during demolition of the building.[12][13][14]
Jean Bourillon, 76
Albert Monnier, 52, locksmith
Adrienne Narbone, 78, Pica's landlady
Jean-François Parrate, 27, police officer
Jean Vermant, 32, police officer
Among the woudned were Julien Gautier, 54, and Roger Spagneux, 55.
References
Edit
External links
Edit
Ad blocker interference detected!
Wikia is a free-to-use site that makes money from advertising. We have a modified experience for viewers using ad blockers

Wikia is not accessible if you've made further modifications. Remove the custom ad blocker rule(s) and the page will load as expected.