James Oliver Huberty was an American unemployed welder who killed 21 people and wounded 19 others at a McDonald's restaurant in San Ysidro, California, United States on July 18, 1984, before being shot dead by a police sniper.It was said that before leaving to commit the massacre he told his wife,Etna Huberty: "Humanity had its chance.I'll be going hunting.Hunting humans."
It remained the deadliest mass shooting by a single perpetrator in the history of the United States until October 16, 1991, when George Hennard killed 23 people at the Luby's cafeteria in Killeen, Texas.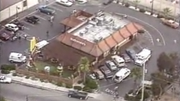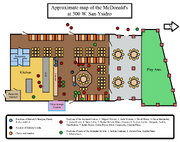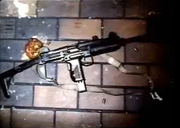 Fired 245 rounds with Uzi and Browning, as well as twelve rounds with shotgun. Shot people inside the restaurant for about 30 minutes, pausing in between to drink soft drinks and threw french fries at one of his victims.[1] He also listened to music on a radio and danced to a song by Michael Jackson. Eventually he finished off those wounded for about 20 minutes.[2]
Elsa Herlinda Borboa-Firro, 19
Neva Denise Caine, 22
Michelle Deanne Carncross, 18
María Elena Colmenero-Silva, 19
David Flores Delgado, 11
Gloria López González, 23
Omar Alonso Hernández, 11
Blythe Regan Herrera, 31
Matao Herrera, 11
Paulina Aquino López, 21
Margarita Padilla, 18
Claudia Pérez, 9
Jose Rubén Lozano Pérez, 19
Carlos Reyes, 8 months
Jackie Lynn Wright Reyes, 18
Victor Maxmillian Rivera, 25
Arisdelsi Vuelvas Vargas, 31
Hugo Luis Velazquez Vasquez, 45
Laurence Herman Versluis, 62
Aida Velazquez Victoria, 69
Miguel Victoria Ulloa, 74
Those wounded were: Juan Acosta Tokano, 33, John L. Arnold, 16, Anthony Alan Atkins, Joshua P. Coleman, 11, Larry Robert Gene Dicks, Guadalupe del Rio Reyes, 25, Astolfo Felix Cejundo, 26, Karlita Maria Felix Flores, 4 months, Maricela Flores de Felix, 23, Ronald Hector Herrera, 25, Alberto Hale Leos, 17, Francisco Jesus "Poco" Lopez, 22, Aurora Pena, 11, Imelda Perez, 15, Maria Leticia Hernandez de Rivera, 25, Mireya Rivera, 4, Keith Thomas, Arthur Velasquez, Kenneth Villegas.[3]
Aftermath
Edit
References
Edit