Harvey Glenn McLeod
Background information
Occupation
Janitor
Born


December 17, 1949
Died

May 29, 1972(1972-05-29) (aged 22)
Raleigh, North Carolina, United States

Cause of death
Suicide
Attack information
Date
May 29, 1972

Location(s)
Raleigh, North Carolina, United States
Killed
4
Injured
7
Weapon(s)
.22-caliber semi-automatic rifle
Harvey Glenn McLeod (aka. Memorial Day Man) was an American high school janitor who killed four people and wounded seven others in Raleigh, North Carolina, United States on May 29, 1972, before committing suicide.
Was sentenced to six months in prison for attacking a white man with a knife. Social worker Charles N. Berry, who examined McLeod during his prison term noted in his report that he was extremely prejudiced and doesn't trust white people at all. He also noted that McLeod was so emotionally constituted that he might "go off the deep end" in the event of an emotional upset.
The Saturday prior to the shooting he was arrested by police for making a false report on a stolen car. According to police officer E. L. Randolph he was upset about the possibility that he might have to go back to jail. According to his aunt Glendale Williams he stated that he would rather die than go back to prison.[1]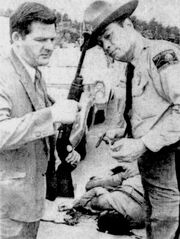 Melvin D. Harrison, 23
James G. Henry, 32
Jessie B. West, 77, died on June 3[2]
Jacquelyn Wharton, 47
Those wounded were:
Wesley Hayden
Terri Sue Henry, 6
Carol Ann Homavec, 20
Leroy Honeycutt, 29
Mrs. Ralph Moody
Carol Lynn Sutton, 3
David E. Wabry, 30.
Bibliography
Edit
Gallemore, Johnnie L. & Panton, James A.: Motiveless" Public Assassins, in The Bulletin of the American Academy of Psychiatry and the Law, Vol. 4 , No. 1, 1976 (p. 51 - 57).
References
Edit
External links
Edit
Ad blocker interference detected!
Wikia is a free-to-use site that makes money from advertising. We have a modified experience for viewers using ad blockers

Wikia is not accessible if you've made further modifications. Remove the custom ad blocker rule(s) and the page will load as expected.