Günter Hermann Ewen
Background information
Occupation
Paver
Born
1962
Dillingen, Germany
Died

May 18, 1999(1999-05-18) (aged 36)
Strassen, Luxembourg

Cause of death
Suicide
Attack information
Date
May 16, 1999
4:40 a.m. – 5:40 a.m.
Location(s)
Dillingen, Germany
Sierck-les-Bains, France
Killed
5
Injured
11
Weapon(s)
9mm semi-automatic pistol
.357 Magnum Smith & Wesson revolver
Günter Hermann Ewen was a German paver who killed four people and wounded at least nine others in Dillingen, Germany on May 16, 1999, before escaping to Sierck-les-Bains, France, where he killed another person, and wounded two more. Hunted by German and French police, he eventually committed suicide at a hotel in Strassen, Luxembourg on May 18.[1][2][3][4]
Ewen was born in Dillingen in 1962, being the youngest and only boy among five siblings, and suffered from asthma since childhood. He showed little interest at school, had to repeat two grades and left Hauptschule after grade seven,[5] whereupon he started an apprenticeship as a paver, which he quit after two years due to his ailment. Up to the age of 30 he lived with his parents and mostly worked odd jobs to earn money.[6][7]
According to conflicting reports Ewen began to consume alcohol excessively either at the age of twelve or eighteen, animated by one of his sisters' boyfriends, whom he admired for his rather wasteful lifestyle. As a youth he was arrested for theft, fraud,[5] and battery, and starting in 1982 he was caught numerous times while driving under the influence of alcohol, which resulted in a three month prison term when he was 26. Since 1990 he was arrested for acts of voyeurism and exhibitionism, and in February 1991 he was fined after masturbating in front of women at a tennis club. Six months later Ewen, in drunk condition, twice broke into a home for mentally disabled women and sexually molested them in their beds. One hour after the second such incident he raped a woman in her home.[6][7][8]
In February 1993 Ewen was convicted for rape and sexual assault in three cases, and sentenced to a prison term of five years and six months. A psychologist found him to be a narcissist, who, in his infantile egocentrism, ruthlessly tried to satisfy his own needs, especially when under the influence of alcohol. In prison he was in therapy concerning his sex offences and was eventually released in October 1996, after serving two third of his sentence.[6][7]
Out of prison Ewen began a relationship with a French woman named Sylvie and started his own business, but in August 1998 he was accused by his friend Robert Fisne, a former drug dealer and police informant of French nationality, of six counts of burglary, whereupon he was again arrested. The reason for these accusations is unknown though it was speculated that Fisne either incriminated Ewen to distract from his own offences after being arrested for burglary, or because Ewen had developed a fixation for his wife Shonnette, a Briton of Jamaican descent who worked as an escort at a nightclub in Beckingen.[6][9]
Ewen remained in remand until January 1999, when he was acquitted, since no incriminating evidence could be found and the testimony of Fisne, the only witness in the case, was vague and contradictory. Even though he left prison cleared of these accusations, the arrest turned out to be devastating to Ewen's personal life, as during this time his business went bankrupt, he lost his home, his girlfriend left him and he had accumulated DM 60,000 in debt, while the DM 3,000 granted as compensation for his wrongful imprisonment were barely enough to pay his attorney.[6]
Ewen eventually found shelter at the home of his sister and brother-in-law in Beckingen where he lived up to the day of the shooting and helped renovating the building.[6][10]
On May 15 Ewen worked at the home of his brother-in-law until 9:30 p.m. – according to the latter he seemed normal. In the early hours of May 16 he appeared at the discothèque "Xanadu" located at Kirchenstraße 1 in Dillingen where he was eventually thrown out, according to the prosecutor presumably because he could not pay his bill. Ewen's brother-in-law however uttered the belief that he may have heard that Fisne was the owner of the etablissement.[6][11][12]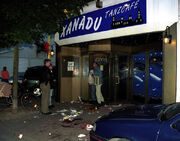 In any case, Ewen afterwards drove to the apartment of a friend of his and stole a case containing three handguns, among them a .357-Magnum Smith & Wesson revolver and a Czech 9mm semi-automatic pistol, and 200 rounds of ammunition. He returned to the "Xanadu" disco at about 4:40 a.m. and opened fire with the revolver and pistol at the approximately twenty people present, thus killing a doorman with a shot in the head, fatally wounding the manager of the facility, Roland Dekow, with a shot in the stomach, and injuring eight or nine others, among them four women and four men aged between 25 and 44, some of them seriously. On one occasion Ewen pointed his gun at the head of 43-year-old M. Finkler, but then changed his mind and shot her in the foot with his revolver. After firing at least ten rounds he fled the crime scene.[6][11][12][13][14][15]
At about 5:10 a.m. Ewen broke into the ground floor apartment of Robert Fisne located at Scharnhorststraße, and killed Fisne and his wife Shonnette in their bed, while the couple's 11-year-old daughter Laura, who was sleeping between them, was wounded by a shot in the face. Afterwards he drove away in a Daihatsu and crossed the German-French border. At about 5:40 a.m. he entered the house of Etienne Kuster in Sierck-les-Bains and killed him, apparently because he refused to give him his car. He also wanted to shoot Kuster's wife, but she managed to escape, because he had run out of bullets. When he was unable to start Kuster's car Ewen tried to stop other vehicles in the street and commenced shooting at the drivers, wounding a woman and a firefighter.[11][10][13][16][17][18]
Roland Dekow, 42, manager of "Xanadu"-discothèque[19]
Unknown, 40, doorman at "Xanadu"-discotheque
Robert Fisne, 37
Shonnette Maxine "Joey" Fisne, 41, wife of Robert Fisne[20]
Etienne Kuster, 39
Among those wounded were:
Laura Fisne, 11, shot in the face
M. Finkler, 43, shot in the foot[14]
Ewen eventually dragged a women out of her Renault Mégane and escaped from Sierck-les-Bains to Waldwisse where he had an accident. Leaving his pistol and ammunition behind he hijacked a Peugeot 106 and drove back towards Sierck-les-Bains. The car was discovered around 5 p.m. near abandoned barracks in Montenach. By that time he was sought by 200 French police officers with dogs and helicopters in the area of Sierck-les-Bains.[10][11][16]
Ewen fled to Luxemburg, where he went hiding in a hotel named "Mon Plaisir" on the morning of May 17. There he was eventually recognized by an employee, who informed authorities at 1 p.m. on May 18. When police arrived at the scene Ewen barricaded the door with his bed and as soon as his room was stormed at about 3:30 p.m. he committed suicide by shooting himself in the temple with his revolver.[15][21]
References
Edit
↑ Manhunt for border killer, BBC (May 17, 1999)
↑ Cross-border murder suspect found dead, BBC (May 18, 1999)
↑ Briton among the dead as disco gunman kills five, The Independent (May 17, 1999)
↑ La chasse à l'assassin fait trembler la Moselle, Libération (May 18, 1999)
↑ 5.0 5.1 Der verdächtige Ewen wurde vom kleinen Ganoven zum Schwerverbrecher, Saarbrücker Zeitung (May 18, 1999)
↑ 7.0 7.1 7.2 Vom Voyeur zum Serien-Mörder, Saarbrücker Zeitung (May 22, 1999)
↑ Tag der Abrechnung, Focus (21/1999)
↑ Fugitive gunman kills himself, Irish Independent (May 19, 1999)
↑ 10.0 10.1 10.2 Fieberhafte Jagd nach dem Dillinger Mörder, Saarbrücker Zeitung (May 18, 1999)
↑ 11.0 11.1 11.2 11.3 Dillingen: Fünf Morde schocken das Saarland, Saarbrücker Zeitung (May 17, 1999)
↑ 12.0 12.1 Pattar: Fall Ewen ist für uns erledigt, Saarbrücker Zeitung (May 20, 1999)
↑ 13.0 13.1 "Unfaßbar, daß so was in unserer Gegend passiert", Saarbrücker Zeitung (May 17, 1999)
↑ 14.0 14.1 Vom Opfer und seiner Angst, Saarbrücker Zeitung (July 10, 1999)
↑ 15.0 15.1 Ewen hat sich erschossen, Saarbrücker Zeitung (May 19, 1999)
↑ 16.0 16.1 Todesschütze auf der Flucht im Grenzland, Saarbrücker Zeitung (May 17, 1999)
↑ Fin de cavale du tueur fou allemand Auteur présumé de cinq meurtres, Ewen s'est suicidé au Luxembourg, Libération (May 19, 1999)
↑ Für Laura ist die Welt noch nicht in Ordnung, Saarbrücker Zeitung (June 21, 1999)
↑ Killing spree gunman evades police hunt, Irish Independent (May 18, 1999)
↑ Meldung über Ewens Tod löst Erleichterung aus, Saarbrücker Zeitung (May 17, 1999)
Further reading
Edit
Die Fahnder tun "alles Menschenmögliche", Saarbrücker Zeitung (May 18, 1999)
Trauer läßt sich nur schwer verordnen, Saarbrücker Zeitung (May 18, 1999)
Grenzenlose Killer-Jagd, Saarbrücker Zeitung (May 19, 1999)
Entsetzen in Dillingen nach blutiger Mordserie, Rhein-Zeitung (May 16, 1999)
Blutbad im Grenzgebiet, Rhein-Zeitung (May 16, 1999)
Amokläufer noch nicht gefaßt, Rhein-Zeitung (May 17, 1999)
Todesschütze hat sich selbst erschossen, Rhein-Zeitung (May 18, 1999)
Großfahndung nach Amokläufer von Dillingen, Die Welt (May 18, 1999)
Fünf Tote nach Amokfahrt im Saarland, Berliner Zeitung (May 17, 1999)
Amokschütze von Dillingen tot aufgefunden, Berliner Zeitung (May 19, 1999)
Saarland: Amokläufer nach Blutbad auf der Flucht, Spiegel (May 17, 1999)
Saarländer Amokläufer: Selbstmord in Hotelzimmer, Spiegel (May 18, 1999)
Moselle: le meurtrier toujours en cavale, Le Télégramme (May 18, 1999)
GERMANY: CROSS-BORDER MANHUNT FOR KILLER, Associated Press (May 16, 1999) (Video)
GERMANY: CROSS BORDER MANHUNT CONTINUES - UPDATE, Associated Press (May 16, 1999) (Video)