Branimir Donchev
Background information
Occupation
Student
Born
October 4, 1957

Died

February 7, 1975(1975-02-07) (aged 17)


Cause of death
Shot by police
Penalty
Found to be insane
Parents
Doncho Donchev
Attack information
Date
December 25, 1974
20:45
Location(s)
Dŭrvenitsa, Sofia, Bulgaria
Target(s)
University hostel
Killed
8
Injured
8
Weapon(s)
Walther semi-automatic pistol
Knife
Branimir Donchev (Kyrillic: Бранимир Дончев) was a Bulgarian rampage killer who killed eight people and wounded eight others with a pistol and a knife at a university hostel in Dŭrvenitsa, a suburb of Sofia, Bulgaria on December 25, 1974. The 17-year-old, a secondary school pupil who had no affiliation to the hostel or the university, was arrested. Among the victims were four foreign students, one of whom was killed.[1][2][3][4][5][6][7]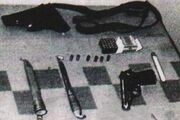 Among the victims were:
Elena (Елена), pregnant
Stoyan (Стоян), husband of Elena
Hoon Thaye Lan (Хун Тхай Лан), Vietnamese
Stefan (Стефан)
Wu Nong Swann (Ву Нон Суан), Vietnamese
References
Edit
External links
Edit
Ad blocker interference detected!
Wikia is a free-to-use site that makes money from advertising. We have a modified experience for viewers using ad blockers

Wikia is not accessible if you've made further modifications. Remove the custom ad blocker rule(s) and the page will load as expected.