Bernabe de Fiesta

Police at two of the crime scenes.
Background information
Occupation
Farm labourer
Born
ca. 1978
Kidapawan, Philippines
Died

May 20, 2008(2008-05-20) (aged 29)
Hornalan, Philippines

Cause of death
Shot by police
Attack information
Date
May 18/19, 2008
11 p.m. – 12:15 a.m.
Location(s)
Hornalan, Philippines
Killed
8
Injured
6
Weapon(s)
M16 rifle
Bernabe "Abe" de Fiesta (also identifed as Bernabe Fiesta) was a Filipino farm labourer who killed eight people and wounded six others in barangay Hornalan, Calamba, Laguna, Philippines during the night from May 18 to May 19, 2008. He was shot dead by police the following day.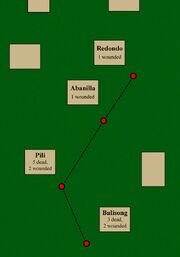 De Fiesta was a native of Kidapawan and worked as a caretaker at the ampalaya farm of his uncle Florencio Peria, a retired police officer, in Hornalan. He had a grudge against several of his neighbours, because he felt constantly humiliated by them.[1][2][3][4]
On May 18, at around 11 p.m., de Fiesta stole an M16 rifle, eight loaded magazines, and ammunition belonging to his uncle, and went to the house of the Balisongs. There he fired through the walls, thus killing Dennis Balisong and his twin daughters Gladlyn and Gladys, while his wife Marina and son Dennis Mark were wounded. After five minutes de Fiesta went to the home of the Pilis about 500 metres away where he killed in the same manner Gerry and Gloria Pili, as well as their children Mary, Sarah, and Julian, and also wounded their daughters Cherry and Erika. All of them were shot in their sleep, and except for Gladys Pili, who succumbed to her injuries on the way to hospital, all of the fatalities died on the spot.[1][3][4][5]
Awakend by the gunfire neighbours went out to investigate, whereupon de Fiesta aimed his rifle at them and shot Aurelio Abanillas in the thigh and back and also wounded Vicente Redondo. Afterwards he proceeded to two other houses, among them the home of the Enobejas family, where he fired a number of rounds. The 29-year-old also shot at several vehicles parked along the road, among them Redondo's jeep, and killed two cows and a dog owned by Redondo. Within 45 minutes he fired at least 96 rounds, more than 60 of them at one of the crime scenes.[1][3][6]
De Fiesta eventually appeared at the home of a 17-year-old in the village and called him out to kill him as well, but the youth managed to convince him to spare his life. They then went inside, where de Fiesta asked for coffee, and while he was drinking, he related about the shooting and the ridicule he had to suffer from the victims, telling: "I killed Gerry because he was a braggart."[7][1][3]
Even though de Fiesta was gone by 12:15 a.m. the villagers left their houses only when village watchmen arrived at around 12:30 a.m. The gunman, who went hiding in a nearby forest, was sought by police in the vicinity of the village and in Bay, Laguna, but was not found until around 4 p.m. on May 20, when police spotted him at the home of his uncle. He refused to surrender and was killed after a 15 minute shootout with law enforcement personnel.[1][2][3][5][8][9]
Florencio Peria was arrested soon after the shooting on May 19 and initially denied to be the owner of the gun used by de Fiesta. He only admitted that the firearm was his, after he was contronted with the fact that a magazine with his name on it was recovered at the crime scene, however, he denied any involvement in the shooting and stated that de Fiesta had stolen the rifle. He was charged with multiple murder, multiple frustrated murder, and illegal possession of firearms.[1][10][11][12]
Dennis Balisong, 29
Gladlyn Balisong, 7, daughter of Dennis Balisong
Gladys Balisong, 7, daughter of Dennis Balisong
Gerry Pili, 48
Gloria Pili, 39, wife of Gerry Pili
Mary Jane Pili, 12, daughter of Gerry and Gloria Pili
Sarah Pili, 9, daughter of Gerry and Gloria Pili
Julian Pili, 4, son of Gerry and Gloria Pili
Those wounded were:
Aurelio Abanilla, 52, shot in the thigh and back
Marina Balisong, 31, wife of Dennis Balisong, shot in the head
Dennis Mark Balisong, 5, son of Dennis and Marina Balisong, shot in stomach and right leg
Vicente Redondo, 42
Cherry May Pili, 17, daughter of Gerry and Gloria Pili
Erika Pili, 8, daughter of Gerry and Gloria Pili
References
Edit
↑ 1.0 1.1 1.2 1.3 1.4 1.5 Farmhand, ex-cop tagged in another massacre; 8 killed, The Philippine Star (May 20, 2008)
↑ 2.0 2.1 Cops kill massacre suspect, The Philippine Star (May 21, 2008)
↑ 3.0 3.1 3.2 3.3 3.4 Another Laguna massacre: 8 shot dead, Philippine Daily Inquirer (May 20, 2008)
↑ 4.0 4.1 Police name suspect in Calamba killings, GMA News (May 19, 2008)
↑ 5.0 5.1 Laguna cops kill suspect in Calamba massacre, GMA News (May 20, 2008)
↑ Cops name suspect in Calamba massacre, Philippine Daily Inquirer (May 19, 2008)
↑

Pinatay ko na si Gerry. Nayayabangan ako sa kanya

↑ Shootout: Suspek sa masaker dedo, The Philippine Star (May 21, 2008)
↑ Calamba massacre suspect killed, Philippine Daily Inquirer (May 21, 2008)
↑ Ex-cop not yet off hook in Calamba massacre, ABS-CBN News (May 21, 2008)
↑ Suspect in massacre faces suit for weapons violation, GMA News (May 22, 2008)
↑ Charges slapped against man in Calamba carnage, GMA News (May 23, 2008)
External links
Edit